Lead your audience to your main business entrance
What is a Marquee Sign and Why Do I Need One?
A marquee sign is typically an outdoor sign that is often mounted over the entrance of a building. It is often used to attract attention to the main entrance and advertises business promotions, events, or products. The sign can also be used indoors in certain contexts, such as in theaters or other entertainment venues.
Why choose this sign type over another and under what circumstances?
Here are a few reasons why you might consider using a marquee sign:
Attract Attention: One of the primary benefits of a marquee sign is that it can help your business stand out and get noticed. The flashing lights and bold messages are hard to miss, and can draw people in from a distance.
Customizable: Marquee signs are highly customizable, so you can create a message that's tailored to your specific needs. Whether you want to advertise a sale, promote a new product, or simply display your company name, a marquee sign can help you do it in a way that's eye-catching and memorable.
Versatile: Marquee signs can be used for a wide variety of purposes, both indoors and outdoors. They're also available in a range of sizes, from small entry models to massive outdoor displays.
Cost-Effective: Compared to other types of advertising, marquee signs are relatively inexpensive. Once you've purchased the sign itself, there are no ongoing costs or maintenance fees. And because they're so effective at grabbing attention, you may find that they bring in more business and revenue than you would have otherwise.
Overall, if you're looking for a way to increase visibility and promote your business, a marquee sign is definitely worth considering. Whether you're running a small local shop or a large chain, these signs can help you get noticed and drive more traffic to your location.
Different Types of Custom Marquee Signs
There are several different types of marquee signs, each with its own unique features and advantages. Here are some of the most common types:
Traditional Marquee Signs: These signs are typically large, outdoor signs that feature individual light bulbs or LEDs arranged in rows or columns to form a message or display. They're often used by businesses and theaters to promote events or products.
LED Marquee Signs: These signs use light-emitting diodes (LEDs) instead of traditional light bulbs. LEDs are brighter, more energy-efficient, and longer-lasting than traditional bulbs, making them a popular choice for outdoor signs.
Portable Marquee Signs: These signs are designed to be easily moved from one location to another. They're often used by schools, churches, and other organizations to promote events or share messages with the community.
Indoor Marquee Signs: These signs are typically smaller than outdoor signs and are designed for indoor use. They're often used in theaters, museums, and other entertainment venues to display information or promote upcoming events.
Electronic Message Centers: These signs feature digital displays that can be programmed to show text, images, or animations. They're highly customizable and can be used to promote a wide range of products, services, or events.
Neon Marquee Signs: These signs use neon tubes to create bright, colorful displays. They're often used in retro-themed restaurants, bars, and other businesses to create a nostalgic atmosphere.
Overall, the type of marquee sign you choose will depend on your specific needs and preferences. Consider factors such as location, size, visibility, and cost when choosing the right sign for your business or organization.
How Ad Art Does Marquee Signs
Ad Art is all about value. We strive to be cost effective in everything we do so that every penny spent will bring optimal return on investment. Ad Art is known for creativity and innovation that helps set each customer's sign apart from "ordinary" static signage. Quality, durability, and reliability are hallmarks of our products, which drives us to take pride in our work. We look good when our customers look good.
When designing and constructing marquee signs, there are several best practices to keep in mind to ensure that the sign is effective, safe, and long-lasting. Here are some key considerations:
Keep it simple: Avoid cluttered or confusing designs. A simple, easy-to-read message will be more effective than a complex one.
Use high-quality materials: Choose durable materials that can withstand outdoor elements such as rain, wind, and sun. This will ensure that the sign lasts for many years and remains in good condition.
Ensure proper installation: Make sure the sign is installed correctly and securely. Improper installation can be dangerous and can lead to damage or injury.
Consider energy efficiency: Choose energy-efficient LED lights to reduce energy costs and environmental impact.
Comply with local regulations: Check with local authorities to ensure that the sign meets all zoning and safety regulations.
The Process:
First, we determine the needs of the business to ensure a marquee sign is the appropriate choice.  If so, we then establish design requirements with the customer. After that, we select the basic elements of the sign that meet design requirements. These include:
Letters
Logos
Illumination
Electronic displays (LED screens)
Dynamic lighting or animated lighting effects
Structure and shape
Materials and finishes
Next, we design the sign with 
unique artistic flair
 based on relevant building 
codes, 
proven design principles, high standards, and best practice. After government and client approvals, it is time to fabricate the sign using appropriate materials and techniques.  Lastly, Ad Art installs and commissions the sign, ensuring reliable operation for years to come. 
The end result is a quality sign product that helps our customer's stand out from the crowd.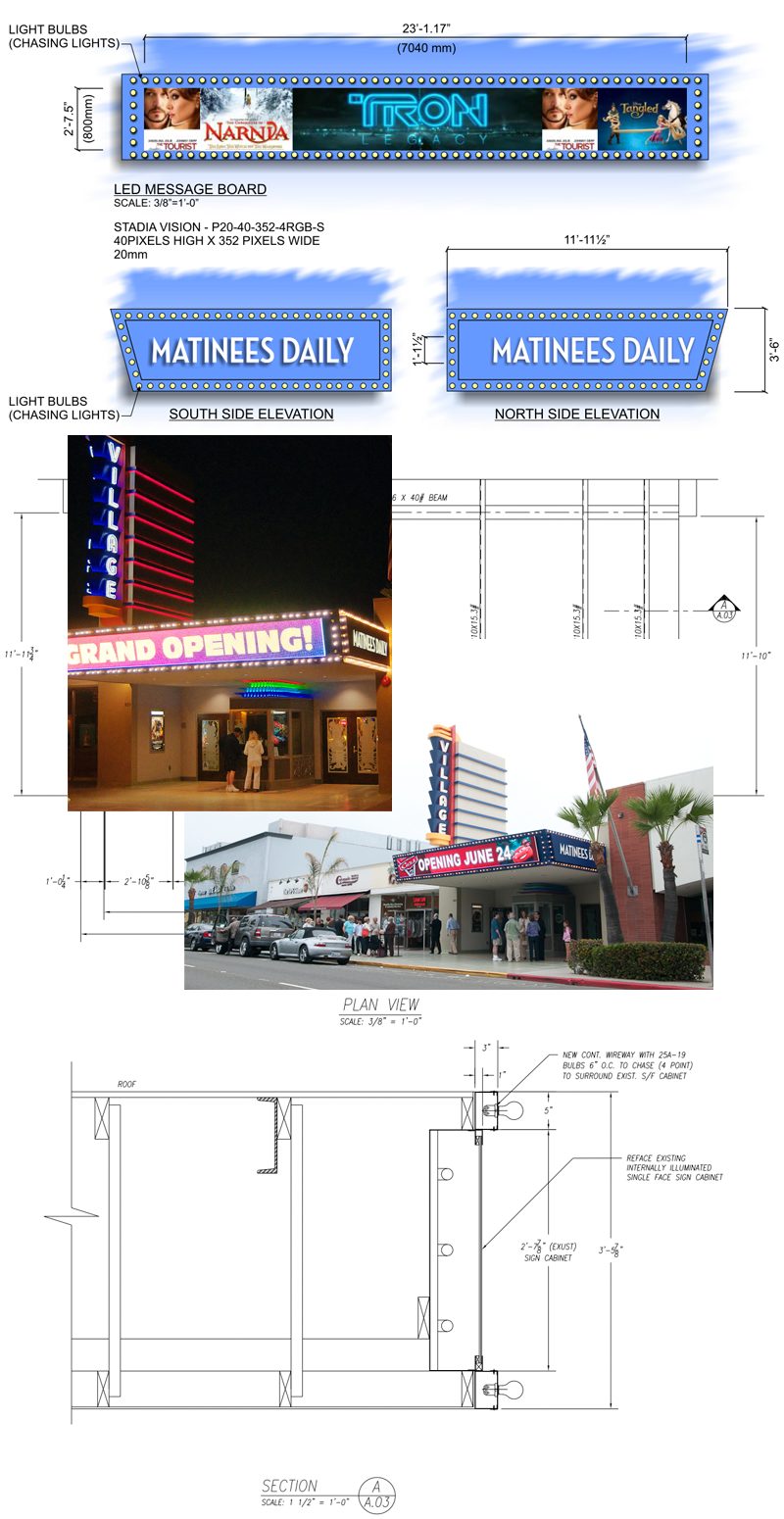 Architectural & Wayfinding
Start your project today! Request a callback from our signage experts.